Hoosiers Out On Tandems
Although the name "HOOTs" has been around since the mid-nineties, the Central Indiana Bicycling Association (CIBA) has been promoting the fitness and social aspects of tandem riding for at least forty years. Many of our rides are in the nine-county Central Indiana region, but we will host several multi-day events in 2020 that appeal to teams from the rest of the state and beyond. Michigan City will be the home of our first multi-day event on the weekend after Memorial Day.

Socializing at the Grandview Golf Club in Anderson - photo by Don Kirk

For the seventh straight year, we'll be hosting events in May and August at the Indiana School for the Blind and Visually Impaired. This unique event pairs a captain from our group with a student from the school. We ride about ten miles through the surrounding neighborhood and on the Monon Trail with an ice cream stop in Broad Ripple. In many cases, the captain's normal stoker will join us on their single bike.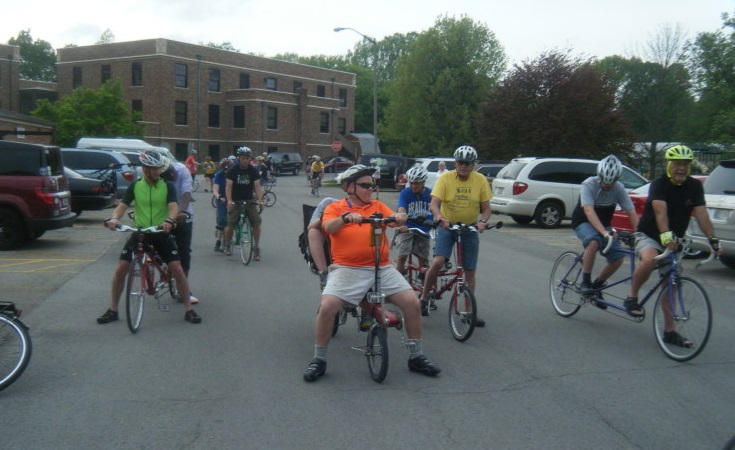 Riding with Students at the Indiana School for the Blind - photo by Nathan Dinges

HOOTs History
HOOTs originally started out in the western part of the state by Tom and Mona Smith around 1990 under the name of TOIS (Tandems Of Indiana & Illinois). In 1993 Tom, who was also a member of CIBA, began to have discussions with CIBA about hosting the 1995 Midwest Tandem Rally. In 1994 TOIS was brought under the umbrella of CIBA which could provide many more resources to the tandem group. At that time the name was changed to Tandems Of Indiana Society (TOIS).

Keith and Janice Conaway headed TOIS in 1994 and 1995, hosting MTR on the northside of Indianapolis.

There was a short time in late 1995 and early 1996 that the name changed to TRAIN (Tandems Riding Around INdiana). In 1996 Sue and Gary Robinson took charge of the group and its name changed to HOOTs. The name represents the entire state, and it also followed the trend of tandem groups to name themselves after animals.
HOOTs Chairs

2020-present

Kent & Anne Ellis

2013-2019
John Calhoun & Madelyn Zalon
2007-2012

Jay & Linda Hardcastle

2001-2006

Don & Dolly Craft

2000

Don Hughes & Debbie Beaudin

1998-1999

Don & Chris Kirk

1996-1997

Gary & Sue Robinson

HOOTs hosted the first Midwest Tandem Rally (MTR) in Kokomo on Labor Day Weekend of 1976. In 2019, we hosted "Rediscover Columbus;" the seventh time that HOOTs has hosted an MTR.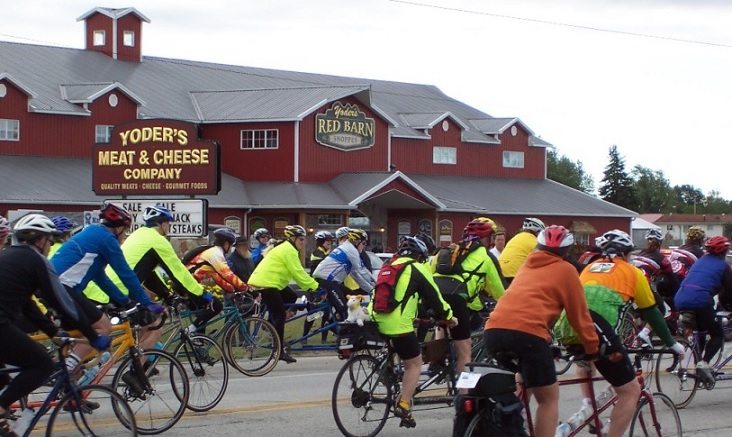 The Start of MTR 2010 in Shipshewana - photo by Don Kirk

Midwest Tandem Rallys hosted by HOOTs

Year

Location

Chairs

2019

Edinburgh

John Calhoun & Madelyn Zalon

2014

Fort Wayne

Kent & Anne Ellis

2010

Shipshewana

Don & Dolly Craft and Danny Graber and Rhonda Yoder

2004

Columbus

Don & Dolly Craft and Charlie & Diane Zaharako

1995

Indianapolis

Keith & Janice Conaway

1985

Anderson

Wayne & Phyllis Shirey

1976

Kokomo

Mont & Pam Williams